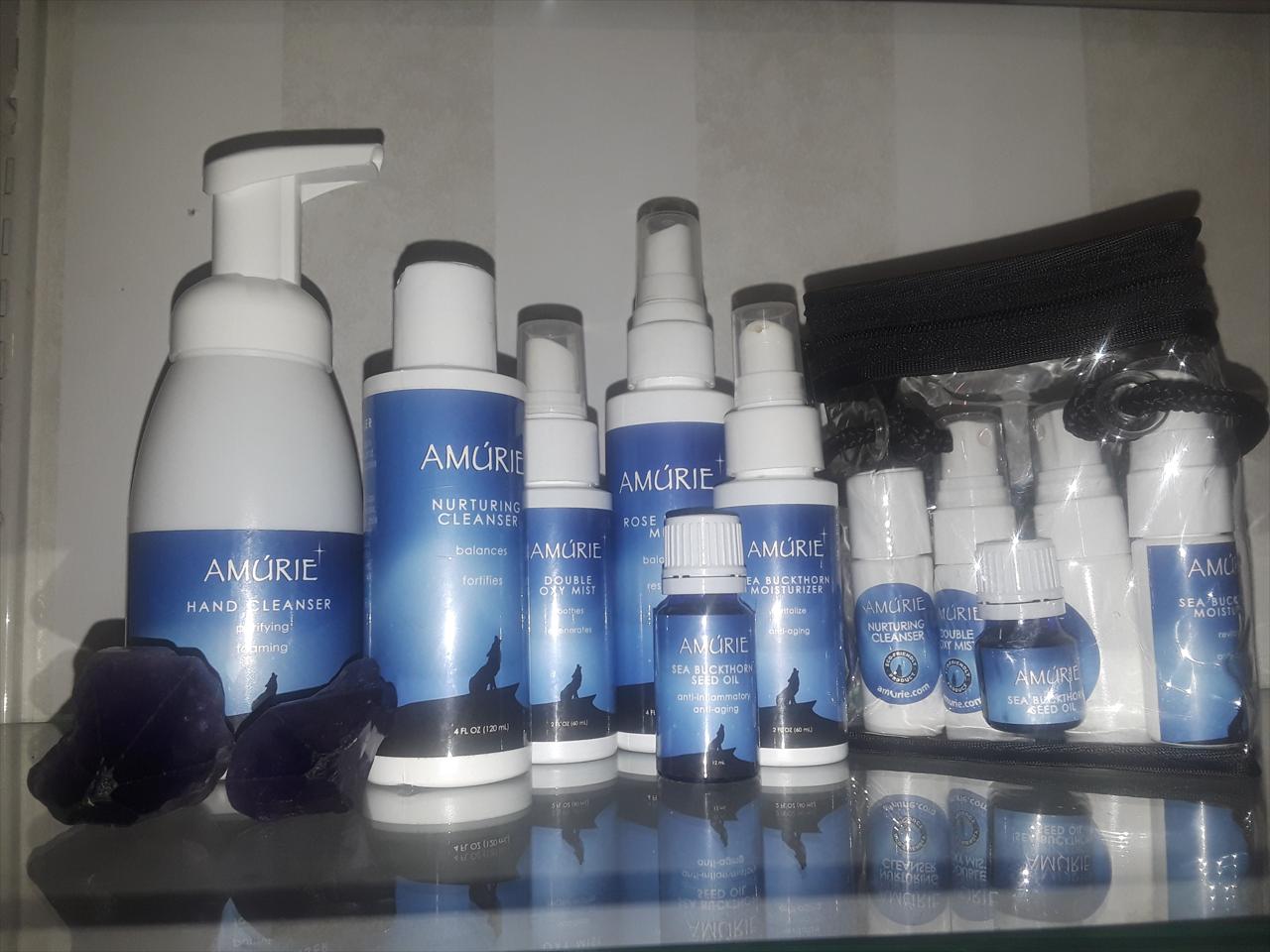 The Company
Our company was created with a deep desire to offer to the world toxin-free skin care products that are purely organic and can be used on the most delicate skin. As our label so perfectly illustrates, we honor the stars, the planet with all its inhabitants including wildlife - all gifts from above. We follow an ancient belief: for as you see, so you are. As each day passes, when you look in the mirror and see that radiant person looking back – so will you become.
What We Offer
Our Organic Skin Care Products
Toxic Free Eco-Friendly
Skin Care Kits
The Amurie Signature Facial
The Amurie Deluxe Signature Facial
Native Crystal Energy Body Work
Informative Speeches
Help Save Our Planet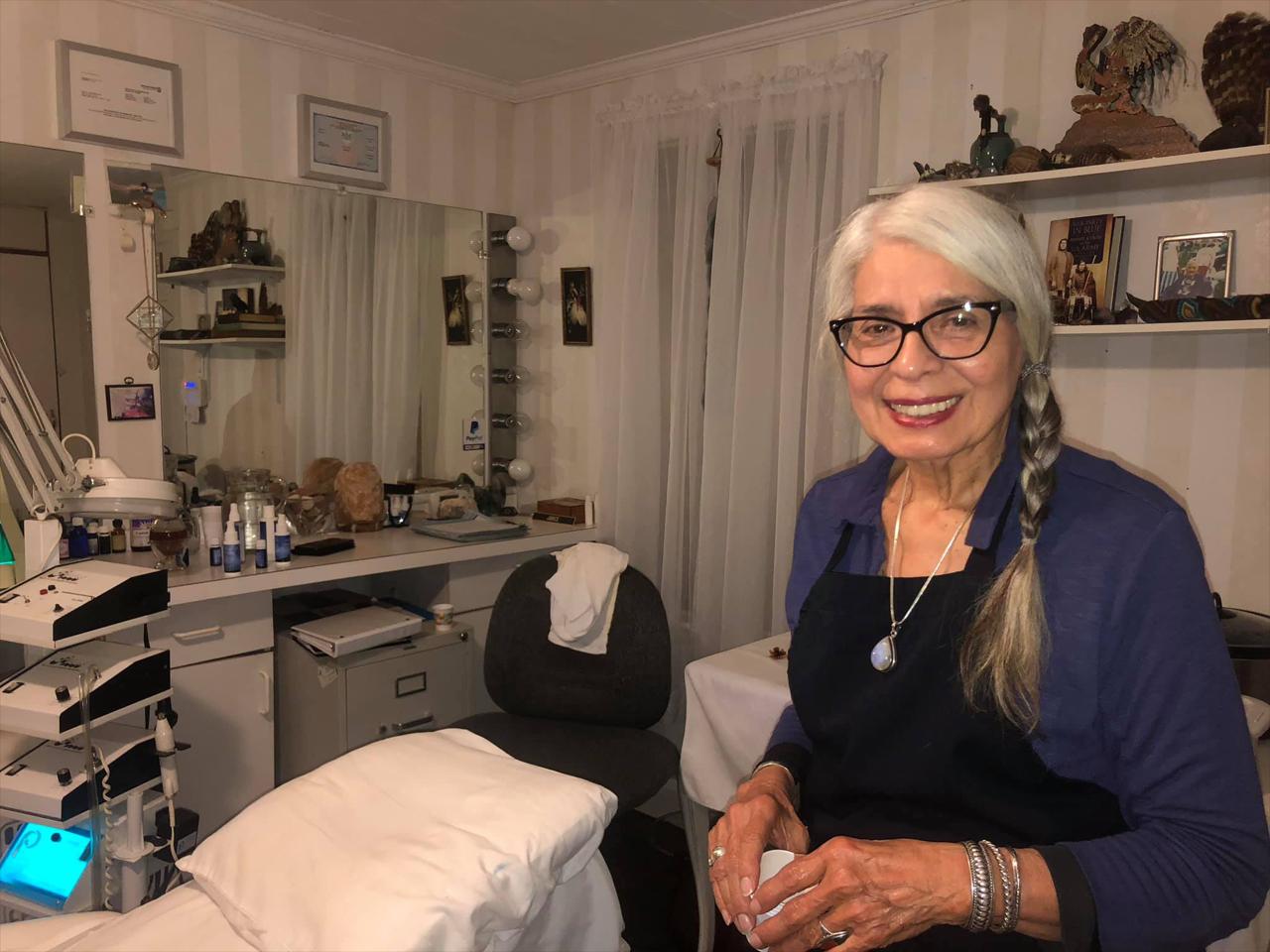 The Owner
Owner Janice Frey is a licensed esthetician and has worked in energy, body, and crystal work for over 53 years. She has named her business in honor of her great-grandmother, White Star Woman, a Pawnee Tribal prophetess of great prominence. She also is the granddaughter of Josephine Walking Sun and James Rolfe Murie, a famed Pawnee Tribal historian, who has manuscripts in the Smithsonian Institute and the American Museum of Natural History.
The Fall
In 1983, Janice was involved in a head injury accident which changed her life forever. She was designing curtains for her home with her head touching a 10-foot ceiling when she fell backward landing on the back of her head. From that time until 1995, her entire life was spent going to doctors all over the Eastern coast, always to be told that time was the only answer and to accept her condition. But she never gave up hope of regaining her health and memory.
During those long 12 years, she spent hours studying the brain, skin, the body, nutrition, organic gardening, philosophy and attended all types of healing, meditation, and prayer groups - only to forget all she had learned. It was during this time that she made a promise to herself : when she finally regained her health, she would spend the rest of her life helping others, especially women, along their paths.
Finally, in 1996 two events happened that started her on her road to recovery. On February 29 she swam with the dolphins at the Dolphin Institute in Grassy Key, Florida. On the way back to the motel she found the book "Spontaneous Healing" by Dr. Andrew Weil. The book searched the world for healers and related how an elderly Osteopath in Arizona healed head injuries with his hands. She called a reference number in the book and was given a list of names and from that list, she chose Dr. Walter Ehrenfeuchter, an osteopathic manipulative medicine doctor at PCOM in Philadelphia. As he started to literally reshape her head with his hands, her long journey to regaining her health was almost over.
Starting Over
Two years later on August 10, 1998, her head opened and an absolute miracle happened. She dropped weight almost overnight, her health returned, the shape of her face and body returned, and most important her mind and memory were back including everything that she had spent so many years studying.
At age 58 when most women were thinking of retirement, she was determined to fulfill the promise she had made to herself during those long 12 years. She enrolled in school, became a licensed esthetician, designed and remodeled her salon and opened the White Star Woman Rejuvenation Center where she specializes in European facials, energy work and teaching women techniques for keeping their skin healthy and youthful looking. The Center is located on the outskirts of the borough of Northampton, PA. and is surrounded by beautiful grounds with many tranquil settings, especially the Medicine Wheel.
Influenced by her early childhood, Janice practiced organic living all of her adult life, but it wasn't until 2001 when she started her pursuits in improved skin care products that she became aware of chemicals in cosmetics. Upon learning that these chemicals were even in infant and children's products, she became a volunteer working with a group of concerned citizens whose purpose was to educate and inform the public about these chemicals and their adverse effects upon the human body.
And now her journey and that promise of years ago continues to be fulfilled with this website and her toxic free product line AMURIE ORGANICS. . With these two mediums she is able to truly aid others along their paths to a new knowledge of the balance in nature and in our planet, and techniques and products for maintaining beautiful skin and better health…. for as you see, so you are.
As an afterthought, Janice is a walking testimony of chemical free living, at age 79, her skin is virtually wrinkle free, firm with no sagging or the usual signs of aging.